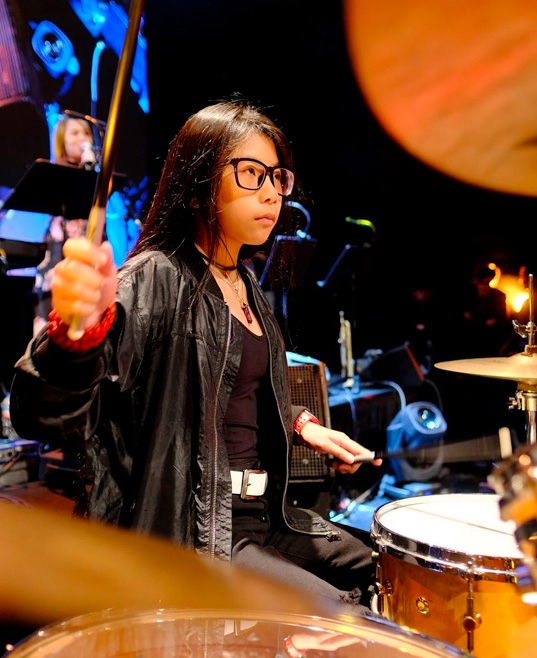 The Intermediate Course focuses on helping students develop drum independence, syncopation, improvisation, speed, rhythmic applications, and other rudimental techniques for performing in a band, showcasing a drum solo, or even composing drum rhythms & grooves. Students will listen, recognize, transcribe and practice different song styles and rhythms.
Successful completion of the Beginner Course entitles students to enrol for our Intermediate classes. New students with drumming basics are welcome to enrol upon passing an assessment. We general try to group intermediate students together at this stage of our programme. Group sessions become much more enjoyable when like-minded people gather with the same passion and interest.
Using contemporary songs and minus one tracks, students will improve and sharpen their drumming skills by applying the techniques and concepts from the Beginner Course syllabus. The primary focus of this course is to allow the student to feel comfortable drumming to any music genre or style.
Every drummer can only play as fast as his/her slowest human limb. Students will begin to master speed, accuracy and control around the drum set. Modules in this level include: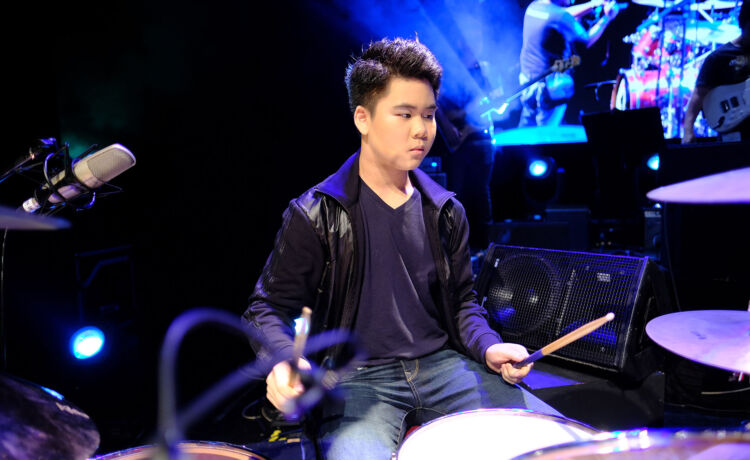 Advanced Semi-Quaver Studies & Full-16 Beat Appplications
Semi-Quavers Triplets & Sextuplets
Drum Fills Using Double Strokes
Comprehensive Snare Reading Patterns (Including Triplets)
Sight Reading & Listening Skills (Improvisation and Independence)
Shuffle, Half-Time Shuffle, Waltz and Jazz Rhythms
MDS Level 3 Evaluation & Grading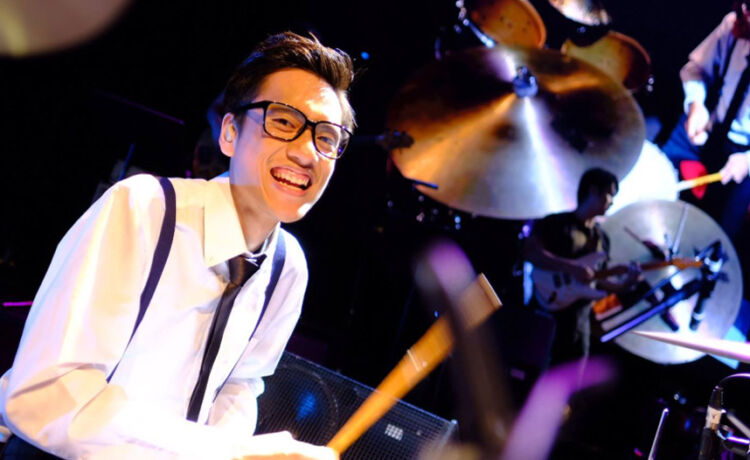 World Music & 40 Rudiments
Sometimes less is more. The student will be exposed to complex techniques and concepts. Modules in Level 2 include:
Speed Pattern Combinations
Alternate Stickings and One-Handed Drum Fills
Advanced Double Bass Techniques
40 International P.A.S Drum Rudiments
Rhythmic Phrasing & Terminology
Improvisational Drum Fills
Bossa Nova, Samba, 3-2 Clave, 2-3 Clave, Rhumba
MDS Intermediate Course Evaluation & Grading
Intermediate Video Promo 1
68 Participants performed at our last Virtual Recital event of the year!
What a great way to end the year with a high. Well done performers!
Date: 27 November 2022
Time: 8pm to 830pm
Event: Virtual Recital 10
Song: Live To Praise YouArtist: Lincoln Brewster
Intermediate Video Promo 2
44 Participants performed at our first Virtual Recital event of the year!
Date: 13th March 2022
Event: Virtual Recital 7.
The drummers who performed in this video:
Josh Koh (15 years old)
Samuel Chew (14 years old)
Day Shaan (16 years old)
Chow Tong En (18 years old)
Song: StrongerArtist: Hillsong
Intermediate Video Promo 3
This was showcased at our Virtual Recital May 2021.
The drummers who performed in this video:
Ng E Kai (16 years old)
Lim Li Ting (28 years old)
Yanting Ong (27 years old)
Lee Jia Yao Sean (10 years old)
Song: B.A.DArtist: Super Junior